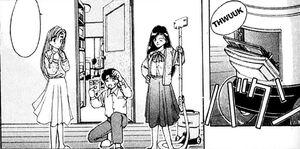 The Anti-A.I. Delete Machine Mk II is a program designed by Hitoshi Kobe to aid in the capture and compression of rogue Artificial Intelligence programs.
Compiled after his previous A.I. creations gained physical form and went rogue, Hitoshi gave Saati Namba and Toeni Namba Anti-A.I. Delete Machines Mk II and Mk I respectively to aid them in tracking down and recapturing the programs before they caused considerable damage to the city.
Ad blocker interference detected!
Wikia is a free-to-use site that makes money from advertising. We have a modified experience for viewers using ad blockers

Wikia is not accessible if you've made further modifications. Remove the custom ad blocker rule(s) and the page will load as expected.