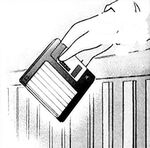 A Floppy Disk is an information storage medium composed of a disk of thin magnetic material, sealed in a rectangular plastic casing.
Proceeding the Compact Disk, Floppy disks can only be read and written by a floppy disk drive (FDD). They were the premiere medium for computer information storage from the 1970's to the mid-2000's where they were replaced by Compact disks and USB flash drives.

The floppy disks Hitoshi Kobe uses are known as "3 1⁄2-inch" type floppy disks.
Floppy disks get their name for the flexible magnetic disk that exists within the plastic casing.
Ad blocker interference detected!
Wikia is a free-to-use site that makes money from advertising. We have a modified experience for viewers using ad blockers

Wikia is not accessible if you've made further modifications. Remove the custom ad blocker rule(s) and the page will load as expected.