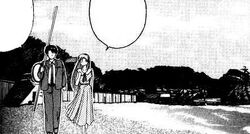 Kujūkuri Beach is a beach that occupies much of the northeast coast of the Chiba Prefecture of Japan. The beach is a popular swimming and surfing destination for inhabitants of Greater Tokyo.

The beach is protected as part of Kujūkuri Prefectural Natural Park.
The beach is approximately 60 kilometers long, making it the second longest beach in Japan.
Ad blocker interference detected!
Wikia is a free-to-use site that makes money from advertising. We have a modified experience for viewers using ad blockers

Wikia is not accessible if you've made further modifications. Remove the custom ad blocker rule(s) and the page will load as expected.