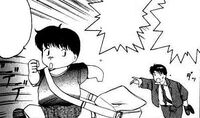 Makoto (まこと) is a boy who single-handedly guards Kujūkuri Beach from litterbugs by placing traps throughout the beach to discourage visitors.
To avoid getting hurt any more by Makoto's booby traps, Hitoshi and Saati help him collect every soft drink can buried in the sand - 138,652 in total. Makoto cashes in the collected cans to build a special watchtower to further guard the beach.
Ad blocker interference detected!
Wikia is a free-to-use site that makes money from advertising. We have a modified experience for viewers using ad blockers

Wikia is not accessible if you've made further modifications. Remove the custom ad blocker rule(s) and the page will load as expected.