Menjō High School is a Japanese secondary education school that caters for both junior (grade 1 -9) and senior (grade 10 - 12) students. This school is the high school of Hitoshi Kobe.
Staff and Students
Edit
Cyberspace Portal
Edit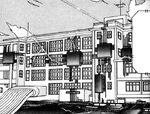 Concept Design
Edit
The Menjō High School's appearance is based off of Kinjo High School in Kodaira City, Tokyo.

Hitoshi and Saati attend class 2-C.
Ad blocker interference detected!
Wikia is a free-to-use site that makes money from advertising. We have a modified experience for viewers using ad blockers

Wikia is not accessible if you've made further modifications. Remove the custom ad blocker rule(s) and the page will load as expected.