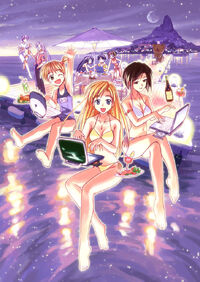 Pararakelse is a tropical island located in the South Pacific near the international date line next to the island of Molmol.
Estimated to be near the epicentre of what was once an empire centred on the worship of turtles, Pararakelse has become the focus of Noriyasu Seta's dream of discovering the ancient Turtle Civilization.

Other Appearances
Edit
Love Hina
Edit
Main Article: Pararakelse Island
The main cast of Love Hina visits Pararakelse Island after Keitaro Urashima becomes stranded on it.

Ad blocker interference detected!
Wikia is a free-to-use site that makes money from advertising. We have a modified experience for viewers using ad blockers

Wikia is not accessible if you've made further modifications. Remove the custom ad blocker rule(s) and the page will load as expected.