Saati Namba (ナンバー サーティ Nanbā Sāti) is the thirtieth Artificial Intelligence program created by Hitoshi Kobe in his desire to create the perfect girlfriend.
Through a freak lightning accident she becomes a real woman and becomes Hitoshi's live-in girlfriend.
Appearance
Edit
She loves Hitoshi and is very loyal and supportive of him, although a bit naïve, which does lead to frequent problems with Hitoshi. The most notable of which is that when she cooks meals she has the tendency to make them look exactly like the picture, regardless of the taste (having no taste buds), using everything from paint to colored markers until she receives a program upgrade that allows her to taste.
Character Design
Edit
Saati's thick eyebrows is a trait Ken Akamatsu admitted to liking in women, citing Sae Isshiki and Jennifer Connelly as examples.
Saati's hair uses number 51 tone. It is said that they had to use 30 sheets nearly every time to tone it.
Concept Gallery
Edit
Other Appearances
Edit
Love Hina
Edit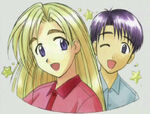 Saati appears alongside Hitoshi in the Love Hina anime series as the main character of the A.I. Love You manga series created by Ken Akamatsu.

Akamatsuverse
Edit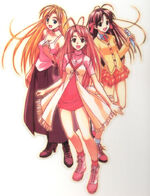 Saati claims that her favourite food is rice, her favourite colour is Yellowish-Blue and her hobby is calculating Pi.
Saati's family name "Namba" (難波), which is properly pronounced "nanpa" ("whirlpool").
Saati's body measurement's are 82-58-85 cm (32¾"-23"-34").
Hitoshi and Saati attend class 2-C.
Ad blocker interference detected!
Wikia is a free-to-use site that makes money from advertising. We have a modified experience for viewers using ad blockers

Wikia is not accessible if you've made further modifications. Remove the custom ad blocker rule(s) and the page will load as expected.