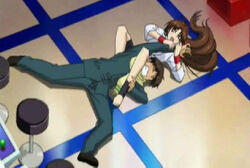 Sambo is a Russian martial art and combat sport that was developed in the early 1920s by the Soviet Red Army to improve their hand-to-hand combat abilities. Intended to be a merger of the most effective techniques of other martial arts, Sambo has roots in Japanese judo, international styles of wrestling, plus traditional folk styles of wrestling such as: Armenian Kokh, Azerbaijani Gulesh, Georgian Chidaoba, Kazakh Kures, Mongolian Khapsagay, Kyrgyz Kurosh, Tatar Köräş, and Uzbek Kurash.
The word "SAMBO" is an acronym for SAMozashchita Bez Oruzhiya, which literally translates as "self-defense without weapons".
Ad blocker interference detected!
Wikia is a free-to-use site that makes money from advertising. We have a modified experience for viewers using ad blockers

Wikia is not accessible if you've made further modifications. Remove the custom ad blocker rule(s) and the page will load as expected.