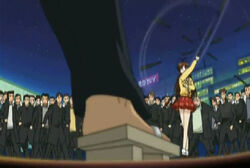 The Sansetsukon, also known as the Three-sectional staff, Triple staff, Three-part staff, or the Sanjiegun, is a Chinese flail weapon that consists of three wooden or metal staffs connected by metal rings or rope.
While similar in design and intention, the weapon is a more complicated version of the two section staff, the staves can be spun to gather momentum resulting in a powerful strike, or their articulation can be used to strike over or around a shield or other defensive block.

Ad blocker interference detected!
Wikia is a free-to-use site that makes money from advertising. We have a modified experience for viewers using ad blockers

Wikia is not accessible if you've made further modifications. Remove the custom ad blocker rule(s) and the page will load as expected.