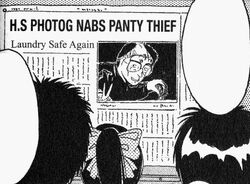 A School Newspaper is a newspaper run by the students of a university, high school, middle school, or another similar institution.
Similar in nature to a typical newspaper in public circulation, these papers traditionally only cover local, school or university news and are limited to circulation within the institution or campus.
In high school, working for the school newspaper is considered an extracurricular activity, much like a sport team or school club, but is also often integrated with journalism classes within which students not only learn about newspapers and journalism but may also produce the actual newspaper during the class.
Ad blocker interference detected!
Wikia is a free-to-use site that makes money from advertising. We have a modified experience for viewers using ad blockers

Wikia is not accessible if you've made further modifications. Remove the custom ad blocker rule(s) and the page will load as expected.