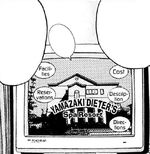 The Yamazaki Dieter's Spa Resort is a "dieter's paradise specializing in fun and easy dieting solutions". Located in Izu, the spa is run by Chitose Yamazaki.
The spa is actually a scam, designed by Chitose to coerce dieters into spending money on eccentric dieting schemes that have little to no effect.

At the time of attending the resort, Saati weighed 51kg (after apparently gaining 7lbs), Toeni weighed 55kg (after apparently gaining 15lbs), and Hitoshi weighed 60kg.
Chitose claims that the spa has been used by Souseki Natsume, Yukichi Fukuzawa, Shoutokutaishi.
She also claims that Hidyoshi used the spa during the Muromachi period, later revealing that Hideyoshi was the name of her monkey.
Ad blocker interference detected!
Wikia is a free-to-use site that makes money from advertising. We have a modified experience for viewers using ad blockers

Wikia is not accessible if you've made further modifications. Remove the custom ad blocker rule(s) and the page will load as expected.