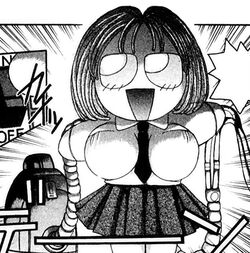 Yuko's Virus is a virus created by Yuko Watanabe in an attempt to hide her real bust size.
Fooling Saati and Hitoshi into inserting the virus into the Menjō High School's computer server, the virus was designed to target and alter the recorded bust sizes of every girl in the school's records; thusly hiding Yuko's actual bust size amongst the altered data.
Unfortunately, Saati and Hitoshi discovered Yuko's duplicity and returned to the school's server to detain the virus.

When not releasing drones, the virus wears a face mask that is commonly seen worn by Japanese people with colds or by those who do not wish to breath in fumes, acrid smoke or pollution.
Ad blocker interference detected!
Wikia is a free-to-use site that makes money from advertising. We have a modified experience for viewers using ad blockers

Wikia is not accessible if you've made further modifications. Remove the custom ad blocker rule(s) and the page will load as expected.